I was going through the people I follow on Twitter the other day and unfollowing a bunch to help unclutter my life a bit and I found one of my new co-workers has a blog.
Clarify new co-worker: Last year I joined Federated Media which owns a healthy handful of Fort Wayne radio stations and then some.  I work for WOWO, he works for The Bear.  Click on the picture below to see how his brain functions.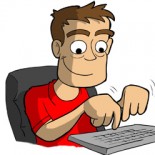 Scott Howard aka ScLoHo has 25+ years of experience in marketing , advertising, media and works directly in the radio and digital world from Fort Wayne, Indiana.  Contact him at Scott@ScLoHo.net or 260.255.4357.