I have a love/hate relationship with the Presidential election season.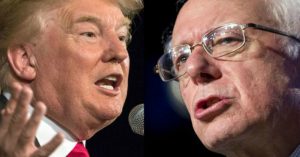 I love pulling a few marketing lessons out of the hi-jinks.
But I also hate the nasty tone and the lies that are used to convince us who to vote for.
First off, I'm not going to suggest you should ever lie in your ads.  Even if the FTC or BBB doesn't catch you, I don't want to be associated with deception.
So let's move on to the 4 Marketing Lessons from Bernie Sanders & Donald Trump that will Make Your Business Great:
There are people who want to support you and your business. Both Bernie and Donald have tapped into a % of the population that are unhappy with the status quo.  In the past, many of these folks didn't even vote. This year Bernie and Donald have delivered a message that echo the thoughts and feelings of those who felt the establishment had abandoned them and they came out to the rallies in record numbers and also voted in huge numbers.
A consistent message works wonders. For this I'll turn my attention to Donald Trump. While the media was waiting for Donald to implode with one outrageous comment after another, Donald continued to stay on message, Make America Great Again and he continues to wear that silly hat.  Nearly everything he says (besides the insults) are on message.
Focus more on your customers, than you. Bernie has been a master of this. Instead of promoting himself as the greatest potential POTUS ever, Bernie Sanders has focused his campaign on creating a political revolution that gives power to the people who have felt left out.
Be real and be different. Neither Sanders or Trump used typical political tactics.  Bernie decided to stay away from Super PAC's and instead sent out emails to his supporters asking for small donations, like $27.00.  Donald spoke his mind, and it was refreshingly blunt according to those who are supporting him.  Being real and being different will also work in your advertising if you also follow the other 3 lessons I mentioned.
Want help applying this to your business?  Let's talk.