Do you live with a short-term viewpoint?
Most people do.
There's the family that lives paycheck to paycheck.  Every two weeks is their version of short-term.
There's the employee who can't stand their boss and they aren't counting the days, they count the hours until they can punch out for the day.
In the business world, I see a combination of daily, weekly, monthly, quarterly and annual time frames that are used as measuring sticks of performance.
When I worked for a party supply company that did a majority of their sales online, we had those stats in front of our face all the time.  We could even see the hourly sales curves and compare them to previous time frames.
While that is important to a certain degree, I want to challenge you to think more about the future than you ever have before.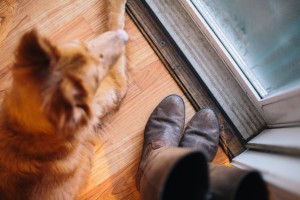 This is April 2015.  What kind of customers do you want in 2017?
Wait, that's nearly 2 years away, you say in protest.  I just need to get thru Q2 of 2015.
That's short term thinking. And it can be exhausting.  You as a business owner are stuck in short term world on the income side but you have long term commitments on the expense side, don't you.
I was talking with a retailer recently who has a three year lease that he knows he can't get out of, but he is wondering how to find his next customer this month.  I presented him with a plan to invite people to his shop and he wants to know if we can shorten the commitment to less time.
Some might say, I haven't sold him hard enough.  I believe he is simply looking too short term with his business overall.  The length of my offer isn't the real issue.  His commitment to his business success is the issue.
In the beginning,  he was excited.  Signing a three year lease, remodeling the interior, investing in signage, equipment, employees, all the start up costs that include some long term commitments were easy, at least at the beginning when the excitement was there.
But when business didn't boom when he opened his doors, he got discouraged.  Oh, he'd tell his family that things are okay, but he had his doubts as he looked at those daily, weekly and monthly numbers.
This retailer is one of hundreds I have met since I started in the advertising and marketing business in 1986.   More than half of the business owners I have met over the past 29 years are no longer in the business that they were in when we first met.
A few have become wildly successful, beyond what they originally imagined.  All of them have had hard times.  Some crumbled, others learned.  Not one of them was truly lucky.  Oh sure, they have been at the right place at the right time with the right product or right service, but it was more than luck.
It took insight, determination, wisdom, and adaptability to not wimp out and find a way forward.
It also took one more thing.
The simple understanding that you have to invite people to do business with you.  That's where I come in.  Marketing and Advertising is both simple and complex.
Not everyone who wants to sell you marketing and advertising services and products has the ability or desire to help you be successful in both the short term and long term.  It is an ongoing process and one that requires commitment from both me and you.  Which takes us back to my original question,  How long is your view?
I have room for a couple more businesses that want to take a long term view to their business and that includes inviting people to do business with them.  Contact me if you want to be considered.