I noticed a profound turn of the tables on the employment front this year.  Back in March after a trip to Michigan, I started seeing help wanted signs everywhere.  A friend of mine started a Facebook Group to match employers with job seekers and now has over 6,000 members!
Unemployment in Allen County, Indiana where Fort Wayne is located is under 5% this summer.  The best employees have jobs.  The ways to fill your openings with the best employees is not to look for the unemployed, but to reach out to those who are already getting a paycheck, in most cases.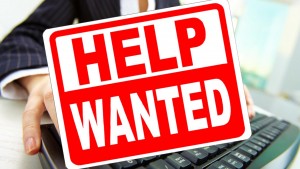 I know from personal experience that while the size of a paycheck is important, there are plenty of other reasons people leave and take other positions including the work environment, people they work with, promotional opportunities and the like… are reasons for someone to consider a change.
Today in 2015, people are not going to hang on to a job they hate just for the money.  But they may not be actively looking on the job boards either.
You as an employer need to be proactive and reach them where they are. And here's where they are:
Over 90% of adults listen to local radio every week according to RAB.com.
The Fort Wayne radio station with the largest number of adults ages 21 to 64? WOWO radio.
And there are plenty of folks working beyond age 64.  I know several in their 70's and older.
WOWO has another distinct advantage over other local stations.  WOWO is a news/talk radio station.  People tune in to listen to the talking.  It is Brain Food.  Compare this to music radio stations which people tune in to for music, not talking.  Talk on a music station is irritating. And unfortunately commercials are talk.
Right now, I have a few recruitment solutions for companies that need to find the best employees available in the Fort Wayne area.  With over 100,000 adults listening to WOWO every week, we can help you invite them to apply and work for you.
Those solutions include WOWO's radio broadcasts, along with several digital elements that we can add to target your ideal candidates.
It doesn't matter if you are hosting your own job fair or need to find employees on an ongoing basis. Part time, full time, seasonal, I can help you design a recruitment campaign for your company needs.   Call or text me at 260-255-4357 or email Scott@WOWO.com and let's get going!