At the end of 2014, I, like many of you, took stock of my year and decided to make some changes for 2015.
Some of those changes involved my online activity including this website.  I am continuing to prune my Twitter connections and expand both LinkedIn and Facebook contacts.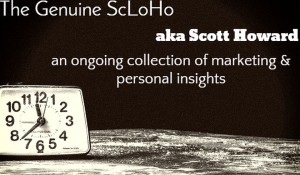 For this website, I did a layout redesign and also created a new version of my "editorial calender".
(An editorial calender is a fancy term for planning ahead what you are going to publish and having some sort of pattern or routine to it.)
My editorial calender is not laid out on a fancy spread sheet or on the back of a napkin.  It's in my head.
That works because, this website is my own creation. I launched it in 2011 and previously had several ScLoHo blogs that were also my own creation.
As I mentioned the other day, I am now in my second full year at WOWO and Federated Media and that is where I make a living.  This website is my own marketing machine, but it's actually more of a creative outlet than anything else.
It's not a direct money maker, but it is a promotional tool.
See my goal in life professionally is to help others make smart decisions with their marketing and advertising dollars.  Sometimes I can help them directly, other times, I'm simply pointing them in a direction.
Tomorrow, I'm going to do a review of the month with links to articles that you may have missed.
And here's what I am planning on doing next month:
I am going to be transparent about the price of advertising with me and WOWO radio, more than anyone probably ever has, at least publicly.
You will see how we set our prices and why.  You will see some of the options and we'll talk about the value of each and also the why.
The articles I am going to write would have cost me my job a few years ago when I worked for another group of radio stations in Fort Wayne.  They were very paranoid and secretive.  During the time I worked there, they asked me to stop sharing all of this advertising and marketing information online.
But I don't work for them anymore and I am free to do what helps me help you.
Let's not make this a monologue either. Let's continue to make this a dialogue.  You can reach out to me with a comment, or contact me directly with the connections listed below.