Last week I meet with a friend and as we were talking, Bryan mentioned he wanted to created T.O.M.A. for his business locally.
He actually said TOMA. It's pronounced "Toe-Ma".  It is shorthand for Top Of Mind Awareness.
That's an excellent goal for a business to have.  It needs to be refined and tweaked but the general principle is there.
Top Of Mind Awareness is what prompted my wife to spend a few hundred dollars this month.
So what is T.O.M.A.?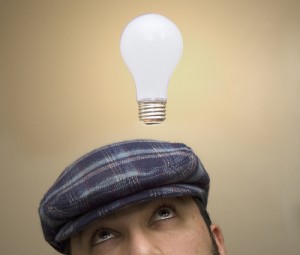 Top of Mind Awareness is being at the top of a potential customers mind when they have a need for your services or products.
On the 4th of July weekend, the temperature in our house climbed to 83 degrees.  We have our central air set at 73 so we knew something was wrong. Three companies came to mind.
Rolf-Griffin.  They were the company we used over the past 8 years at our previous house.
Doc Dancer. They have been around "forever" and I know the 2nd generation owners and see Nancy and Bill at least once a month.  I went to school with them 30 years ago too.
Brockmans.  They installed central air in a house I bought 13 years ago and left a good impression.
All of these businesses do some advertising of various sorts along with several other heating/cooling contractors.
All of them were Top of Mind with my wife and I, in a positive way and that was the order they were called last week.
Actually only the first two were called.
The woman my wife spoke with at Rolf-Griffin could not find us in their system, even though we had been an ongoing customer for 8 years.  A service call was going to be a minimum of $99 plus parts, labor and who knows what else.  That $99 was to be paid no matter what.  My wife, who is a pretty good negotiator, hang up in frustration.
Call number 2 was much better. Doc Dancer would give us a new customer discount on their service call fee and they fit us in that afternoon.  That's why Brockmans never got a call.  They were 3rd on our T.O.M.A. list.
There are many ways to build Top Of Mind Awareness and we'll discuss those in the days ahead.  Also I need to share more about this experience in another article or two.
Let me ask you this: What are you doing to build Top Of Mind Awareness for you and your business?  Have you even thought about this?  Want help? Contact me.