Last time, I shared with you two very different ways to buy advertising.  Today, I'll teach you the simple way to buy radio advertising.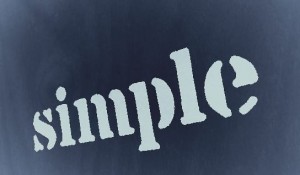 It's pretty smart too.
Buy an audience that you can dominate and create top of mind awareness.
For this example, I'm going to use my radio station, WOWO radio in Fort Wayne, Indiana. WOWO is a news/talk radio station that has the largest adult audience of all the stations in our area.
A 1 minute commercial is priced around $100 during primetime.
Primetime on the radio is between 5am and 6pm, weekdays. That is when WOWO and most radio stations have the most listeners.  This is different from primetime on television which is 8pm to 11pm.  That is when television stations have the most viewers.
So let's say you have $500 a week to spend and you need a full 60 seconds to get your message out.  Plan on doing this 52 weeks a year.  What's the best way to spend that $26,000 in 2016?
The simple way to build your business, given these circumstances would be to pick one hour each weekday that your commercial will air. The same hour every day, 5 days a week, every week of the year.
If we were to do that between 7 and 8am, your message would reach over 37,000 adults age 25 and older an average of 90 times over a year.  You would be one of the top, or perhaps the top of mind (fill in your profession), to those 37,000 people.
Pick 11:30 to 12:30 (lunchtime) and you get similar numbers, 39,000 adults. 2pm-3pm and it's 38,000.  Here's a very important question.  How many new customers can you take on in a year?  350?  That's less than 1%.  3500 is less than 10%.
This is just one example. But it is a much simpler way of buying radio advertising than the complicated mess I showed you yesterday.
Don't take this as the only way, or best way to schedule your ads on the radio.  It's simply an easy and effective way that could be used.  The best way can only be determined after you and I talk about your goals and look at your individual scenario.  Contact me to do just that.