The timeless marketing rule that we're going to look at today is so basic, yet so many business owners miss this.
3. If you want people to show up at something but you don't invite them, they won't show up. This is one huge principle I preach about advertising.  You have to invite people to become customers.
In conversations with business people I lay out the following scenario:
You're getting married.  You pick a date, get a dress, order flowers, notify the bridesmaids and groomsmen, reserve the church, the minister, plan the reception, order the cake and food and even make a guest list.  You do everything right except one thing:  You never send out the invitations. How many people do you think will show up?
Now most business people see the problem right away, no one is going to come to your wedding unless you mail those invitations.  It doesn't matter that you planned for 200 or 1000 guests… the answer is still zero.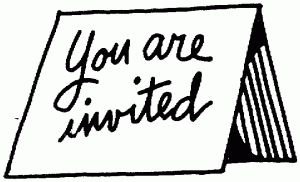 What a waste.  All that planning, all that food, all that money.  Sure you can still get married but…
Transfer this line of thinking to starting a new business.  You do everything except invite people with an advertising and marketing plan.  You open the doors on your first day and there is no one waiting to do business with you because you didn't invite them.
The invite is critical.  Your business will close if you have no customers.  You will not have any customers if you don't invite them.
Marketing and advertising isn't an extra expense, it's as crucial as any other part of your business.  More on this series next week.  In the meantime, if you want help, contact me.