Today I'm kicking off a marketing series to get you to think beyond yourself and become a bigger thinker.  Last week I challenged you to get a better understanding of who you and your business are from four different perspectives.
Unfortunately, most of us look at our business only from an insiders perspective, because, well, that is us.  It is who we are. And we are busy taking care of our stuff we have little time or desire to explore the other perspectives.
What I purpose you do is to flip around your viewpoint.
Instead of thinking about all the great and wonderful things you do, think about how you stack up in your customers mindset.
You do not operate in a vacuum.
Your customers do not have to buy from you.
I'll give you a couple of examples.
In Fort Wayne, Indiana, we have one Honda Dealer.  Just one that is allowed to sell brand new Honda cars.
So if my son in law, who has always owned at least one Honda all the years I have known him, is going to buy a new Honda, he's going to shop at Don Ayres Honda in Fort Wayne, right?
Wrong. I doubt that Brandon has bought any of his Honda's from Don Ayres.  He will travel two hours to Indianapolis to a Honda dealer who offers him a better price than he can get from Don Ayres in Fort Wayne.
The folks at Don Ayres Honda probably don't realize that they are losing his business. Brandon buys a vehicle about every 18 months.  Don Ayres thinks they are the only Honda dealer people in Fort Wayne will buy from, because, well, they are the only Honda Dealer.
I'm sure they could do something that could earn Brandon's business, but they are not and unless they read this, they are unaware of the business lost.  Because I am sure there are others locally who will drive to save if the offer is right.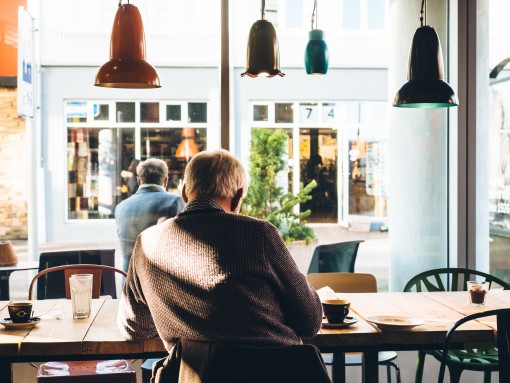 The other example I want to share today involves my friend Ron.  He eats every day. As a single guy, he eats out once or twice daily.  He often eats with others at lunch or dinnertime. But he also eats at home every once in awhile.
Every day Ron decides where to spend his food money.  Business lunch, dinner with friends, or just a bite at home, these are his preliminary choices 3 times a day. Over 1000 meals he will eat this year and every time he decides where he will eat.
If you are a fast food joint, you may be on his short list. McDonald's, Wendy's, Arby's, Burger King, Subway, all are possibilities. A few local places like Hall's, Chrome Plated Diner and Calhoun Street Soup, Salad and Spirits are also under consideration when Ron wants to eat.
Applebees, Smokey Bones, Ruby Tuesday, and a couple of Chinese joints have all earned Rons lunch money during the past year.
But these are not the only competitors. Kroger, Scotts, Walmart and Meijer, they are also getting a share of the money Ron spends each month for food.
With all of these options, does any one of them stand out as favorites? Sure.  I know which ones because I grab lunch with him about once a week.  But the point here is just because you sell burgers, don't think your only competition is the other burger places.  You need to know all of the places your customers could  (and are) spending money they could be spending with you.
As you look at the big picture, you will begin to see yourself as your customer sees you and you have the opportunity to better position yourself.
More tomorrow.