I have mentioned that most businesses don't want to spend money on advertising, they just want the results from advertising.
Sometimes people are further along in their understanding of business basics when I meet with them, they know they need to spend money to advertise and they are shopping for a place to spend their money.
When I mention I am with WOWO Radio in Fort Wayne, nearly everyone over the age of 30 is aware of WOWO.  After all, WOWO has been on the air for 90 years including more than 20 years as a news/talk radio station and consistently has more listeners than any other station in town by a large margin according to the radio rating services.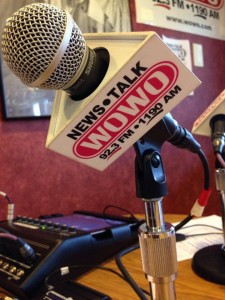 One of the first questions I ask people who says they are familiar with WOWO is, "What is your perception of WOWO and the audience?"  I get a varied response, and while many of the answers are correct, they are not the full picture.
WOWO's audience is massive.  There are 25 year olds, 75 year olds, and all ages in between. Men listen, women listen, conservatives, liberals, independents, even people who don't care about politics listen.
WOWO is brain food.  You listen because you want information.  Whether it's weather reports, school delays, or farm reports and sports scores, WOWO has it every morning.
Afternoons on WOWO, we have another local talk show that has subject matter that people in our area care about.  That's why they listen.  In between Fort Wayne's Morning News and the Pat Miller Show in the afternoon, we have a couple of national politically based talk shows and more in the evening.  It works at attracting a mammoth adult audience.
Advertising with WOWO adds credibility to your business.  Recently I had a business want to form a "partnership with us" where we would give them all kinds of promotion, but they didn't see the value of our endorsement of their business enough to pay us.  Their view of the partnership was lopsided and not an accurate portrait of who had more value.  They were struggling to build awareness in Fort Wayne of the existence of their business, but believed that they were "stronger" than us and if would benefit WOWO more than it would benefit them.  Not to be conceded, but they were unable to convince me so I decided not to do business with them.
A quick side note…  There are 21 other radio stations based in Fort Wayne. If I was with any of the 15 less listened to stations, they may have had a point and we could have worked out some type of partnership.
Advertising with WOWO can be very affordable.  One of the lessons I learned was the power of connecting that WOWO has.  This is an ideal environment for relationship marketing because our listeners form emotional ties and relationships with WOWO and our radio personalities.   This means I have options to put together marketing plans that are different than I would if I was representing another radio station or any other advertising venue.
Besides the relationship that is built via our on air programming, WOWO has other touchpoints with our listeners via social media including our Facebook, Twitter and YouTube accounts that are updated continuously.  There is also texting that is very popular and the ongoing updates to WOWO.com as news stories break daily.
But the core of what makes all of this possible is the 90 year heritage of WOWO as a radio station and I am privileged to work there.