A couple days before Thanksgiving and I want to keep it short and to the point today.
The purpose of advertising is to invite people to do business with you.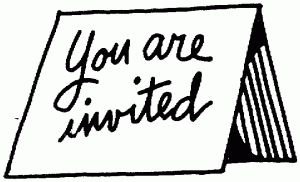 Earlier this month, I had someone contact me on the morning of Veterans Day, wanting us to get the word out about a Veterans Day promotion that involved something pretty cool.  The problem was she forgot to send the "invitations" to let people know about the promotion until it was too late.
I did what I could but the turn out could have been much better.
Thursday you prepare the turkey with all the sides and basically invest a lot of time, effort and money into creating a Thanksgiving dinner at your home.  But did you invite anyone to join you for the meal?
This is what advertising does.  It's the invite.  It's what I can help you with. Need help?